Afrobeats singer Wendy Shay, born Wendy Addo, has reacted to a video circulating on social media in which a prophet is seen prophesying her kidnap and subsequent death before the end of the year.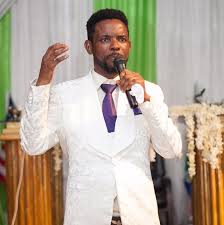 The prophet named Akwesi Appiah, aka Jesus Ahuof3, is seen in the video telling his congregation that Wendy Shay would be kidnapped and killed for ritual purposes.
In the same video, the man of God claimed he saw Wendy Shay being put in a small room where the said rituals were done, after which her body was left to rot.

He admonished people close to her to warn her to repent from her lifestyle or she would not see the end of 2020.
Reacting to the words of the prophet in the video in a post, one would have thought the Stevie Wonder hitmaker, would have unleashed hell on the prophet for prophesying her death but in an interesting turn of events, the singer rather tells fans to stop raining insults on the prophet and pray for her.
She further requested for the prophet's number to speak with him concerning the vision he had had about her.
See post below: